To be released in late January 2014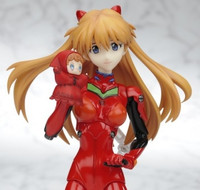 Figure and doll company Arcadia will soon be releasing a poseable figure of "Rebuild of Evangelion" character Asuka Langley Shikinami.
Designed by famous sculptor Cerberus Project TM, the figure has been labeled as "C:MO", standing for "creative motion model". The product line was conceptualized as a high-quality poseable figure series, and features special joints designed by Cerberus Project TM. The series combines the flexibility and interactivity of a poseable figure with the quality and large size characteristic of non-poseable figures.
The Asuka figure is the second in the "C:MO" series, following the previously released figure of Evangelion's Rei Ayanami. Measuring approximately 215 millimeters tall, the figure comes with extra changeable parts, including 1 face, 2 sets of eyes, 2 right hands, and 1 left hand. Also included are Asuka's hand puppet and cell phone.
The figure retails for 9,240 yen. It will be released in late January 2014.
Links:
C:MO Rebuild of Evangelion Asuka Langley Shikinami
Rebuild of Evangelion
Source YATTAR JAPAN