4th single "lull - Soshite Bokura wa" hits stores on October 30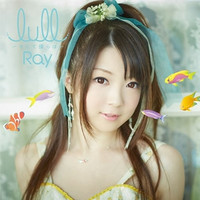 Geneon Universal Entertainment has posted a short promotional video for Ray's 4th single "lull - Soshite Bokura wa" on its anime song specialized label Rondo Robe's official YouTube channel. It is now featured as the OP theme song for a 2013 fall TV anime Nagi no Asukara. Ray previously sang the image song for the anime "-nagi-." The CD single will be released in Japan on October 30 in three editions; Normal Edition, First Limited Edition, and First Limited Anime Edition.
Ray made her professional debut as an anime song singer with 1st single "sign" (Ano Natsu de Matteru TV anime OP) in February 2012. Her 2nd single "Rakuen Project" was used as the OP theme for To Love-Ru Darkness and 3rd single "Recall" was for AMNESIA as the ED theme.
Nagi no Asukara is now available to Crunchyroll audiences in North America, UK, Ireland, Australia, New Zealand, Netherlands, Scandinavia, South Africa, Central America, South America, Caribbean, Turkey, Italy, Austria, Germany, Lichtenstein, Luxembourg, Switzerland, Belgium, Poland, Denmark, Czech Republic, Hungary, Romania, France, French DOM-TOM, Andorra, Algeria, Tunisia, and Morocco.
"lull - Soshite Bokura wa" short PV
15-second TV CM
Normal edition CD cover
First limited edition CD cover
First limited anime edition CD cover
"Nagi no Asukara" PV featuring Ray's "-nagi-"
© Universal Studios