The Vocaloid girl supports international relations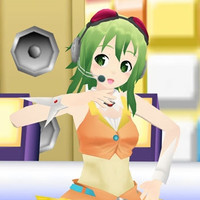 The ASEAN-Japan ministerial policy meeting on cybersecurity cooperation was held on Hotel Okura in Tokyo on September 12 and 13. The special feature of the international conference to discuss the cooperation between Japan and the ASEAN economies in the field of cybersecurity was Vocaloid character GUMI's mini live concert at the dinner party. Following the preview, a 20 minutes long official miulti-angle video of the concert was posted by INTERNET (Megpoid's publisher) on YouTube. GUMI on a dilad screen played her popular songs "Setsuna trip", "Miraculous Encounter", "Country Road", and "Maigo no boku ni" with the band. Check the live video below and enjoy!
The ASEAN (the Association of Southeast Asian Nations) member states are: Brunei Darussalam, the Kingdom of Cambodia, the Republic of Indonesia, the Lao People's Democratic Republic, Malaysia, the Republic of the Union of Myanmar, the Republic of the Philippines, the Republic of Singapore, the Kingdom
of Thailand, and the Socialist Republic of Viet Nam.
Source: Hatsune Miku Miku