Aya Hirano puts on a bunny suit again for her birthday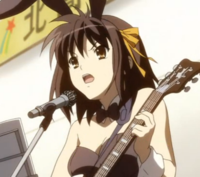 Haruhi Suzumiya from The Melancholy of Haruhi Suzumiya is always remembered as wearing a black bunny suit besides her school uniform and the voice actress for Haruhi, Aya Hirano put one on at her birthday live show for her fans and posted the hot images on her blog, appropriately titled Live Alive. This makes the second time she's worn a bunny girl cosplay since 2007 in the behind-the-scenes footage of her 6th single and MonStAR music video.
Aya had the fanclub-exclusive birthday live show to celebrate her 26th birthday on October 8th in Tokyo. After the show, she re-appeared on stage in the bunny suit cosplay for an encore and performed God Knows... and Lost My Music with the emcee as the Haruhi in between according to her blog.
Later, Aya followed up with more private photos of her cosplay on her blog.
This photo was taken and edited by voice actress Saito Ayaka (Ruby from Jewelpet series) backstage of the live show when she visited. Happy 26th birthday, Aya san!
Source: Narinari
Copyright © Narinari.com. All rights reserved.