New single on sale Nov/27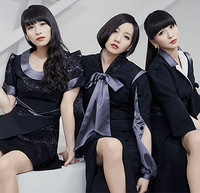 Japan's leading electro idol unit Perfume only just released their new album LEVEL3 a little more than a month ago, but now, the girls have a brand new single on the horizon. "Sweet Refrain" is set for release on Nov/27 and will double as the theme song to season two of the TV Asahi night time drama Toshi Densetsu no Onna.
As usual, songwriter and producer Yasutaka Nakata is behind the helm, and appears to be pushing things in a very dubstep direction. Hit or miss? Watch the short version PV below and be the jukebox jury!
BONUS: Cover art for the "Sweet Refrain" single
Limited edition CD + DVD combo
Regular edition CD
---------
Patrick Macias is editor in chief of Crunchyroll News. He is also the editor of Otaku USA magazine. Check out his blog at patrickmacias.blogs.com and follow him on Twitter.