3 new series begin next week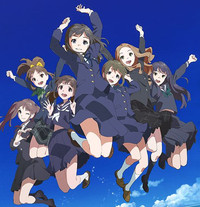 The Crunchyroll panel at Otakon Vegas has wrapped up with a triple whammy of new streaming anime announcements, including ZX Ignition, Wake Up, Girls! (both the series and Seven Idols feature film), and season two of Silver Spoon. Below are the details on a show-by-show basis…
Wake Up, Girls! is set to broadcast every Friday starting on January 10, at 10:30a.m. Pacific Time for its premium members, with free members able to watch one week later. The accompanying movie, Wake Up, Girls! – Seven Idols will also be airing on Friday, January 10, at 9:00am Pacific Time. (Please note that this marks the first time Crunchyroll has ever simulcasted a movie from Japan!) More information can be found on www.crunchyroll.com/wakeup.
Wake Up, Girls! takes place in the Sendai, Japan's northeastern Tohoku region. A tiny production company, Green leaves Entertainment, which once managed the careers of talents such as magicians, models, and other entertainers is now on the verge of going out of business when their last talent quits. In an effort to save the company, the president decides to produce an idol group and sends manager Kouhei Matsuda out to scout raw talent, where he has a fateful encounter with a certain girl…
Wake Up, Girls! and Wake Up, Girls! – Seven Idols will be available to Crunchyroll's Premium members worldwide except Asia, while Free members will be able to watch in the following territories: USA, Canada, Australia, New Zealand, South Africa, Denmark, Finland, Iceland, the Netherlands, Norway, and Sweden.
Based on BROCCOLI's trading card game in collaboration with Nippon Ichi Software, Z/X IGNITION is set to broadcast every Thursday starting on January 9 at 10:50 am Pacific Time for its premium members. Free users will be able to view this series one (1) week after initial broadcast on Crunchyroll. More information can be found on www.crunchyroll.com/ignition.
"In the not-so-distant future, five portals suddenly appeared acting as gateways to alternative worlds. However, these five worlds are actually the same world, but in different timelines. As the situation becomes increasingly dire, the inhabitants of each world will stop at nothing to ensure the survival of their own timeline, even at the expense of the other timelines. The key to survival lies in one card-shaped device..."
Z/X IGNITION will be available to users in the following territories: United States of America, Canada, South Africa, Australia, New Zealand, Central America, South America, French speaking Europe, United Kingdom, Ireland, German speaking Europe, Sweden, Norway, Finland, and Denmark.
SILVER SPOON 2, is set to broadcast on Thursday January 9 at 9:50 am Pacific Time. Premium users will be able to view SILVER SPOON 2 immediately upon broadcast, with free users able to view one week after initial Crunchyroll broadcast. More information can be found on www.crunchyroll.com/silver
"Hokkaido native and author of Fullmetal Alchemist and Hero Tales – Hiromu Arakawa – will have her SILVER SPOON story brought to life by Marie Miyake (Penguindrum, Hiiro no Kakera) and Ryohei Kimura (Eden of the East, Star Driver, Haganai), who will be portraying our protagonists: Aki Mikage and Yugo Hachiken.
"The only reason why Yugo Hachiken decides to attend the Oezo Agricultural High School (a.k.a Ezono) was simply because the school had a dormitory. At first, entering Ezono was a way for Yugo to run away from the fact that he failed to endure the stifling academic pressures at his preparatory school back in Sapporo. But, it doesn't take long for Yugo to realize that life is just not that simple, and he is forced to face more hurdles in his new environment surrounded by all the farm animals and the magnificent Mother Nature. For Yugo, who was raised in a home environment far from farm life, the training and the club activities at Ezono are all too unfamiliar for him making every day a struggle.
Yugo also begins feeling a different kind of pressure from when he attended the preparatory school as he deals with many of his classmates who, compared to him, all have a much clearer view of what they want for their futures. But, as Yugo faces one challenge after another at Ezono and strengthens his bonds with his classmates, he begins to grow stronger both physically and mentally… This is a coming-of-age story filled with sweat, tears, and literally a lot of dirt."
Silver Spoon 2 will be available to audiences in the following territories: US, Canada, Australia, NZ, UK, Ireland, South Africa, Central/South America, Spain, Portugal, Turkey
---------
Patrick Macias is editor in chief of Crunchyroll News. He is also the editor of Otaku USA magazine. Check out his Tumblr at japanesefashioninferno.tumblr.com.