Personagens de Hokuto no Ken entram para o time de lutadores de J-Stars Victory Vs. Veja a atualização da lista de lutadores.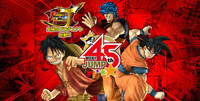 Foi publicado esta semana na Shueisha's Weekly Shonen Jump a adição de Kenshiro e Raoh, ambos da série Hokuto no Ken, para a lista de lutadores jogáveis de J-Stars Victory Vs.
J-Star Victory Vs. é bem aguardado pelos fãs da revista e das respectivas séries publicadas nela. O jogo será lançado para Playstation 3 e PS VITA apenas no Japão por enquanto e sua música de abertura será cantada por três das grandes vozes das anime song's; Hiroshi Kitadani, Akira Kushida e Hironobu Kageyama. Aqueles que realizarem a pré-compra do jogo, ainda ganharão uma edição especial da Jump Comics contendo ilustrações e informações das personagens.
Previsto para o mês de março, a atual lista de personagens conta com:
One Piece
Monkey D. Luffy
Boa Hancock
Akainu
Dragon Ball Z
Son Goku
Vegeta
Freeza
Toriko
Toriko
Zebra
Naruto Shippūden
Naruto Uzumaki
Sasuke Uchiha
Madara Uchiha
Bleach
Ichigo Kurosaki
Sōsuke Aizen
Rukia (Suporte)
Rurouni Kenshin
Kenshin Himura
Makoto Shishio
Kochira Katsushika-ku Kamearikouen-mae Hashutsujo
Kankichi Ryōtsu
Gintama
Gintoki Sakata
Kagura (Suporte)
Sadaharu (Suporte)
Yū Yū Hakusho
Yūsuke Urameshi
Toguro (irmão mais jovem)
Hunter x Hunter
Gon Freecss
Hisoka (Suporte)
Chinyūki -Tarō to Yukaina Nakama-tachi-
Tarō Yamada
Pyu to Fuku! Jaguar
Jaguar (Suporte)
Medaka Box
Medaka Kurokami
Misogi Kumagawa (Suporte)
To Love-Ru
LaLa (Suporte)
Nisekoi
Chitoge Kirisaki (Suporte)
Katekyo Hitman Reborn!
Tsunayoshi Sawada (com Reborn)
Beelzebub
Tatsumi Oga (com Beelzebub)
Assassination Classroom
Koro-Sensei
JoJo's Bizarre Adventure
Jonathan Joestar
Joseph Joestar
Jigoku Sensei Nube
Meisuke "Nuubee" Nueno
Neuro - Supernatural Detective
Neuro (Suporte)
Kuroko's Basketball
Tetsuya Kuroko (Suporte)
Saint Seiya
Seiya
Sket Dance
Bossun (Suporte)
Switch (Suporte)
D.Gray-man
Allen Walker (Suporte)
---
ThSilva é redator Crunchyroll.pt