Fans pledge over $30,000 for English release of movie by Sunao Katabuchi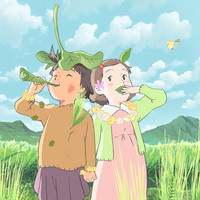 One day after going live, UK based All the Anime's KickStarter campaign to crowd fund an English release of anime movie Mai Mai Miracle has reached its $30,000 goal. While "early bird" copies are capped, collection's edition DVD and Blu-ray sets of Sunao Katabuchi's (Black Lagoon, Kiki's Delivery Service assistant director) feature are still available for a $55 pledge.
The campaign runs through March 7 2014 12:02 PM EST.
The campain explains
Mai Mai Miracle was released in 2009 and subsequently did well with audiences around the world - sweeping awards like Audience Award for Best Animated Feature for adultsand the BETV award at Anima, the Brussels Animation Film Festival. It also won the jury prize for Best Animated Film at the Fantasia Film Festival in Montréal along with theExcellence Prize for Feature Length Animation at the 2010 Japan Media Arts Festival. That's a lot of festival prizes and praise!
Directed by Sunao Katabuchi, director and former protégé of the legendary Hayao Miyazaki, Mai Mai Miracle is particularly noted for its beautifully designed background art. The film itself garnered much of its success in Japan thanks to a slow but enthusiastic build up of word of mouth, quickly making it a niche favourite amongst anime fans ever since.
Such a film dripping with gorgeous art, sweetness and a story rich in the magic of childhood imagination, growing up and friendship should be enjoyed by a wider audience. This Kickstarter campaign will allow us to do just that, to finally bring about the release of Mai Mai Miracle for the first time in UK and US complete with English subtitles and, hopefully, an English dub!
This campaign will allow us to arrange and package Mai Mai Miracle in the way it deserves and otherwise would not receive.
Shinko, is a third grade elementary school student with a magically active imagination. She spends a lot of her time listening to her grandfather's history lessons, imagining what her town was like 1,000 years earlier. One day, a sad and sombre girl called Kiiko transfers to Shinko's school from Tokyo. A strong friendship soon grows between the two girls as Shinko helps Kiiko come out of her shell and deal with her loss - all thanks to their adventures, both imagined and real.
With so many prizes and praises under its belt, Mai Mai Miracle is a gem of a film that has been sadly overlooked by the wider world in terms of international release. We're here to fix that - with your help.
Anyone who knows of Anime Limited's founder, Andrew Partridge, knows he's all about transparency - down to publishing the monthly charts for anime in the UK to giving people a wealth of information on how things work! With that in mind, we feel it's vital that we explain just exactly what is getting spent where.
Here's what the Kickstarter money is going to be used for :
50% of all money in - Basic out of pocket costs such as production of the collector's edition (authoring, translation, material access, replication, packaging, shipping and fulfilment), and a flat fee of $5,000 to cover man-power over production at likely 280+ hrs.
40% - Split between creation of extras for the Kickstarter and any extras made as part of the Kickstarter (borrowing the term from the good folks at Animego - the concept ofCrowd Production).
10% goes to Kickstarter - Between the 5% fee that keeps them going to enable more awesome payments, payment processing fees & tax.
We Kickstart projects a lot (check our profile if you're curious or follow us to see what we end up supporting usually). And to be honest, we're pretty sick of stretch goals dictated by the companies in question. We are big believers in Crowd Production.
None of the money from the Kickstarter will be used to acquire the rights - we've taken the gamble on that and shouldered that spend ourselves. Now we need your help to prove us right that there's some love out there for this film!
------
Scott Green is editor and reporter for anime and manga at geek entertainment site Ain't It Cool News. Follow him on Twitter at @aicnanime.