The digital discussion will take place at 11PM GMT on Thursday, February 27th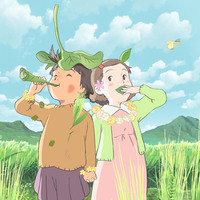 One day after going live, UK based All the Anime's KickStarter campaign to crowd fund an English release of anime movie Mai Mai Miracle reached its $30,000 goal. Now, with a week left, they're over $83,000, having met stretch goal to produce an English dub (in addition to subtitles), and localize the original theatrical pamphlet. And, to bring this into the home stretch, they will be presenting a Reddit Ask Me Anything Q&A with director Sunao Katabuchi (Black Lagoon, Kiki's Delivery Service assistant director).
The digital discussion will take place at 11PM GMT on Thursday, February 27th.
For more details, check out the calendar here https://www.google.com/calendar/embed?src=amaverify%40gmail.com
Unsure of what an AMA is or how to take part? Check out the link here http://www.reddit.com/r/IAmA/wiki/index
The campaign runs through March 7 2014 12:02 PM EST.
The campain explains
Mai Mai Miracle was released in 2009 and subsequently did well with audiences around the world - sweeping awards like Audience Award for Best Animated Feature for adultsand the BETV award at Anima, the Brussels Animation Film Festival. It also won the jury prize for Best Animated Film at the Fantasia Film Festival in Montréal along with theExcellence Prize for Feature Length Animation at the 2010 Japan Media Arts Festival. That's a lot of festival prizes and praise!
Directed by Sunao Katabuchi, director and former protégé of the legendary Hayao Miyazaki, Mai Mai Miracle is particularly noted for its beautifully designed background art. The film itself garnered much of its success in Japan thanks to a slow but enthusiastic build up of word of mouth, quickly making it a niche favourite amongst anime fans ever since.
Such a film dripping with gorgeous art, sweetness and a story rich in the magic of childhood imagination, growing up and friendship should be enjoyed by a wider audience. This Kickstarter campaign will allow us to do just that, to finally bring about the release of Mai Mai Miracle for the first time in UK and US complete with English subtitles and, hopefully, an English dub!
This campaign will allow us to arrange and package Mai Mai Miracle in the way it deserves and otherwise would not receive.
Shinko, is a third grade elementary school student with a magically active imagination. She spends a lot of her time listening to her grandfather's history lessons, imagining what her town was like 1,000 years earlier. One day, a sad and sombre girl called Kiiko transfers to Shinko's school from Tokyo. A strong friendship soon grows between the two girls as Shinko helps Kiiko come out of her shell and deal with her loss - all thanks to their adventures, both imagined and real.
With so many prizes and praises under its belt, Mai Mai Miracle is a gem of a film that has been sadly overlooked by the wider world in terms of international release. We're here to fix that - with your help.
------
Scott Green is editor and reporter for anime and manga at geek entertainment site Ain't It Cool News. Follow him on Twitter at @aicnanime.