Anime estreia nesta quarta, não perca!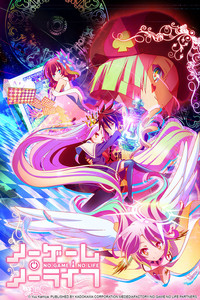 Por essa vocês não esperavam! A Crunchyroll.pt tem o orgulho de anunciar a transmissão para o público brasileiro do anime No Game, No Life, baseado na história original do light novel de Yuu Kamiya. Por isso não percam, a partir de amanhã, 9 de abril, sempre às 12h30, teremos episódios inéditos de No Game, No Life!
Baseado na light novel de Yuu Kamiya, No Game, No Life gira em torno dos irmãos hikikomori (isolados em casa) que têm gerado de forma notável lendas urbanas na internet sobre suas habilidades nos jogos. Certo dia, eles encontram um menino chamado "Deus" que os chama para um mundo alternativo. Nesse mundo onde a guerra é proibida, dezesseis diferentes raças lutam pelo controle, mas suas batalhas são através de vários tipos de jogos. A humanidade foi resumida a uma cidade final. Os irmãos Sora e Shiro poderão salvar a humanidade da extinção?
A atriz Ai Kayano, conhecida por seu papel como Menma de Anohana e Kasumi Takaiya de Witch Craft Works, interpreta a irmã Shiro. Yoshitsugu Matsuoka, o Kirito de Sword Art Online e o Titus de Magi, dá voz ao irmão Sora.
Assista aos episódios pelo site da Crunchyroll.pt ou pelos nossos aplicativos. Membros com Assinatura de Acesso Total da Crunchyroll possuem acesso a todos os animes e dramas com qualidade em alta definição e sem propagandas. Confiram nossos Planos de Assinatura!
Estão gostando dos nossos anúncios? Então fiquem ligados nas CrunchyNotícias e na nossa Programação para não perder nenhuma novidade! Sigam nosso Twitter e curtam nossa página no Facebook!

Títulos da Temporada de Privamera 2014:
22/03/2014 - GTO Taiwan
01/04/2014 - Majin Bone
02/04/2014 - Inugami-san to Nekoyama-san
02/04/2014 - Kamigami no Asobi
02/04/2014 - JoJo no Kimyou na Bouken
02/04/2014 - Mushi-shi
03/04/2014 - selector infected WIXOSS
03/04/2014 - Blade & Soul
03/04/2014 - Tokubou Keisatsuchou Tokushuu Bohank
03/04/2014 - Soredemo Sekai wa Utsukushii
03/04/2014 - Kiniro no Chord -Blue Sky-
04/04/2014 - Mahouka Koukou no Rettousei
04/04/2014 - Fairy Tail
05/04/2014 - Kindaichi Shounen no Jikenbo R
05/04/2014 - Captain Earth
05/04/2014 - Abarenbou Rikishi! Matsutarou
05/04/2014 - Baby Steps
05/04/2014 - Gokukoku no Brynhildr
07/04/2014 - Mangaka-san to Assistant-san to
07/04/2014 - Black Bullet
08/04/2014 - No Game, No Life
??/04/2014 - ????
---
Swyyy é editora-chefe da CrunchyNotícias pela Crunchyroll.pt. Encontre-a no twitter @SwyTeofilo.