Do criador de "Senyuu", Robinson Haruhara, Gakumon estreia dia 25/04 no NicoNico.jp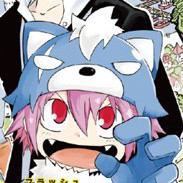 A edição de maio da JUMP Magazine (Shueisha) anuncia a adaptação para flash anime do mangá de Robinson Haruhara ~ Gakumon! Ookami Shoujo wa Kujikenai ~ com estreia dia 25 de abril no NicoNico.jp.
A história é sobre Shushu (na imagem, ela está no centro à esquerda), uma garota que se inscreve num concurso para lobisomens. O problema é que ela esconde o fato de que é uma menina... Quem interpreta a Shushu é a Yumi Uchiyama, enquanto Hiro Shimono é o personagem Juzu (na esquerda, mais acima), que é filho do diretor da escola, um garoto bastante sombrio.
A direção do anime ficou com Kenshirō Morii (Horizon in the Middle of Nowhere), pelo Studio Moriken (Attack on Titan Chimi Chara Gekijō), o design dos personagens com Sōshi Iguchi, a música com Shintarō Mori (Love Live! School idol project opening "Bokura wa Ima no Naka de").
---
Datatsushi é redator da CrunchyNotícias para a Crunchyroll.pt e é apaixonado por anime, comida japonesa e cultura asiática. Você pode segui-lo no Twitter @_datatsushi_