Un Vivillon más disponible para todo el mundo.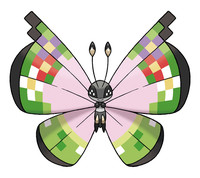 Desde The Pokémon Company informan de que ya se han intercambiado cerca de 90 millones de Pokémon en todo el mundo, así que para conmemorar la próxima llegada a los 100 millones de intercambios de Pokémon a través de la GTS, se regalará un nuevo Vivillon con temática Fantasía.
Vivillon es un Pokémon único en el sentido de que los motivos y los colores en sus alas típicamente varían en función de la región en la que el jugador vive en el mundo real. Por ello, jugadores de todo el mundo han estado intercambiando Vivillon a través de la GTS para coleccionar todos los motivos regionales.
Este recientemente descubierto Vivillon rompe con esa tradición, ya que estará disponible para los fans de Pokémon de todo el mundo una vez que se llegue al Pokémon número 100 millones intercambiado a través de la GTS. Cuando se alcance este importante hito, tendrá lugar un evento de distribución especial que permitirá a todos los jugadores de Pokémon X o Pokémon Y recibir el Vivillon con el motivo Fantasía sin importar dónde residan.
Una vez alcanzado ese objetivo, los jugadores podrán visitar Pokemon.es para averiguar cómo conseguir el Vivillon con el motivo Fantasía en su juego de Pokémon X o Pokémon Y.
The Pokémon Company agradece a todos los que ya han participado para alcanzar este épico objetivo intercambiando Pokémon vía la GTS y anima a todo el mundo a que siga haciendo intercambios para que se pueda alcanzar este gran hito.