"Girls und Panzer" figure due out in December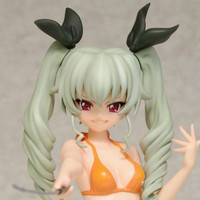 If you like Girls und Panzer, Wave has good news: their latest girl in a bikini is none other than Anchovie, and she's up for pre-order. From the look on her face (not to mention that crop), she's feeling bossy. Have a look:
She's due out in late December, and she's got a price tag of 6,480 yen. She's on pre-order now.