First episode streams tonight at 6PM PST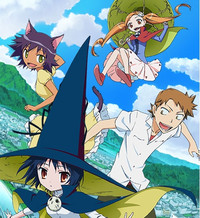 Following up on the stream of simulcast announcements throughout the day, the next title that's been added to Crunchyroll's Summer lineup is Magimoji Rurumo. The synopsis for the series is as follows:
Based off a manga by Wataru Watanabe, the author of popular cycling manga Yowapeda, Magimoji Rurumo follows the story of a boy named Kota Shibaki, who suddenly gets a bunch of magical tickets one day. Rurumo, a witch that was demoted to an apprentice witch, uses these tickets as training in the human world, and Kota can use these tickets to grant wishes, which are part of Rurumo's training. However, the catch is that each ticket that is used shortens Kota's lifespan, so will he help out Rurumo, even at the expense of his own life?
The series will start streaming tonight with the first episode at 6PM PST with more details on the weekly episode schedule coming soon. Magimoji Rurumo will be available in the following territories:
U.S.A, Canada, United Kingdom, Ireland, South Africa, Australia, New Zealand, Finland, Norway, Sweden, Iceland, Denmark Netherlands, and Latin America (Central and South America including the Caribbean Islands).