Stream starts 7/28 9:00am PDT with episodes 1-4 for premium members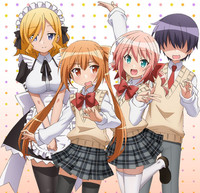 Crunchyroll continues chugging along with Summer shows with its latest acquisition in the anime adaptation of the Himegoto manga. The series will begin streaming on Monday July 28th at 9AM Pacific Standard Time with the first four episodes available to Premium members, then being made available one week after for Free members.
Himegoto follows high-schooler Hime Arikawa, whose absent parents have left him saddled with a huge debt. After being saved from debt collectors by three girls on the student council, in exchange for paying off his debt, he agrees to spend the rest of his high school career dressed as a girl.


Voice actor Yuki Kuwahara, also known as Rattle in Freezing Vibration, plays the main character Hime, while relative newcomer voice actress Saki Ono, who previously had a minor role in Day Break Illusion, voices the student council president Unko. Vice President 18-Kin is also voiced by a new voice actress, Yuka Matenrou, and Hisako Tojo, who was also in Freezing Vibration as Yuria Munberk, plays the student council secretary Albertina II.


Himegoto will be available to Crunchyroll's audience worldwide except: Bangladesh, Bhutan, Brunei, China, Cambodia, East Timor, Hong Kong, India, Indonesia, Korea, Lao People's Democratic Republic, Macau, Malaysia, Maldives, Mongolia, Myanmar, Nepal, Pakistan, Philippines, Singapore, Sri Lanka, Taiwan, Thailand, Vietnam, and Japan.