8th single "Rinrei" hits stores on October 29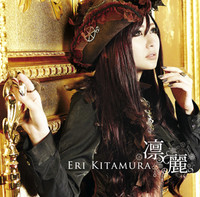 King Record has posted a short version promotional video for voice actress/singer Eri Kitamura's upcoming 8th single "Rinrei (凛麗)" on its official YouTube channel. The title roughly means commanding and beautiful. The song will be used as the ED theme for Sunrise's new TV robot anime Cross Ange: Tenshi to Ryu no Rondo/CROSS ANGE Rondo of Angel and Dragon, in which she also voices one of the main characters, Salia. The OP song "Kindan no Resistance" (Forbidden Resistance) is sung by Nana Mizuki, who plays the protagonist Ange/Angeliese Ikaruga Misurugi. The CD single of "Rinrei" will be released in three editions on October 29.
CROSS ANGE Rondo of Angel and Dragon airs every Sunday starting on October 5 at 2:00am Pacific Time. It will be available in the United States, Canada, and Latin America.
"Rinrei" short PV
Limited edition CD jacket
Regular edition
Anime edition
"CROSS ANGE" latest PV
© King Records. CO., LTD