"The 101st Proposal" und "Desperate Motherhood" jetzt verfügbar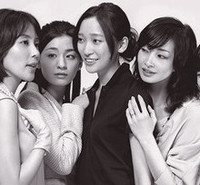 Es wird Zeit, unseren Dramenkatalog auszuweiten und das machen wir sogleich mit zwei Titeln:
Bei dem ersten handelt es sich um The 101st Proposal, einer Geschichte voll von Wärme, Tränen und Gelächter, in welcher Tetsuo (gespielt von Takeda Tetsuya) auf der Suche nach einer Braut ist. Bei seinem 100. Hochzeitstreffen trifft er auf Kaoru (gespielt von Asano Atsuko), welche nicht über den Tod ihres früheren Verlobten hinwegkommt, der vor drei Jahren in einem Unfall verstarb. Tatsuro möchte Kaoru jedoch nicht aufgeben und versucht, ihr Herz zu erobern.
Die zweite Ergänzung unseres Angebots ist Desperate Motherhood. Hier könnt ihr die Abgründe von mütterlichen Freundschaften erleben. Erlebt ein Netz komplexer Beziehungen, gestrickt aus Freundschaft, Eitelkeit, Lüge und Verrat, in dem fünf "Mom-Freunde", welche dachten, dass dies mit ihrem Schulabschluss vorüber sei, versinken. Für jede Frau, die ihr Glück sucht, eine Serie von Frauen für Frauen über Frauen.
Premiummitglieder können sich die Serien sofort ansehen, für alle anderen schalten wir jede Woche drei neue Folgen frei. An der deutschen Übersetzug arbeiten wir momentan, die ersten drei Folgen von The 101st Proposal sind jedoch schon in deutscher Sprache verfügbar.