Including the ED theme song for the 7th episode "Hoshi no Kakera"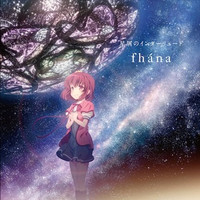 The official website for four-member unit fhána has announced that they will release an eight song image album "Sonatas to Interludes" dedicated to the ongoing TV anime Sora no Method/Celestial Method on December 24.
The album includes "Hoshi no Kakera" (A piece of a star), used as the ED song for the anime's 7th episode aired this week. The song is already digitally available on iTunes Store. The unit's 5th single "Hoshikuzu no Interlude" (Stardust Interludes) was also used as the ED from the 1st to 6th episode, and the album contains the "Acappella with Strings" version of the 1st ED song.
The unit's 1st original full album "Outside of Melancholy" is scheduled to be released on February 4, 2015. In commemoration of the release, they will hold their first live concert without any supporting acts
at Shibuya duo Music in Tokyo on March 1.
"Hoshikuzu no Interlude" PV
Jacket illustration
fhána artist photo © fhána
via: Natalie