The last episode of the "Sword Art Online II" TV anime will be aired tonight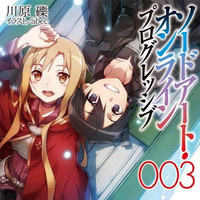 As of the release of the third volume of the SAOP-Sword Art Online Progressive spin-off series on December 10, Reki Kawahara's popular light novel series Sword Art Online reaches 16.7 million print run (not the number sold) in the world including Japan, Dengeki Bunko's assistant editor Kazuma Miki reported on the TV anime's official Twitter account today.
The number is compiled from China, Taiwan, Korea, Thailand, U.S., U.K, and Canada. In the Japanese market, the series reached the 10 million mark in the past July when the 15th volume was published. According to Miki, they are also planning to release the series in Vietnam, Germany, Italy, France, and Poland in near future.
The wraparound jacket band to announce the record in production.
今回のニュースを記念したオビも今制作中です。年明け以降、電撃文庫『SAO』シリーズに巻かれていきますので、皆様、お手に取ってみてください。これもひとえに皆様のご声援のおかげです。ありがとうございます! このお礼はいつか必ず、精神的に。 pic.twitter.com/Km3fAebJlh

— TVアニメ「ソードアート・オンライン」 (@sao_anime) December 19, 2014
The covers of the SAO 1st volume and SAOP third volume
Source: "Sword Art Online" TV anime series official Twitter