Fans help decide which shoujo get special reprints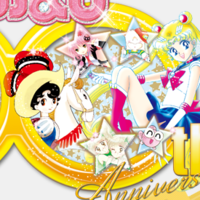 Long-running shoujo manga magazine Nakayoshi has been celebrating its 60th anniversary with a Masterpiece General Election in which fans help decide which manga will receive special reprint editions. This started with book store ballots leading into the release of the January 2015 issue, but before it culminates in the decision's announcement in the June issue, on sale April 28th, and the summer reprints, Nakayoshi has launched a net phase for the voting.
Between January 20th and February 20th, fans who follow @nakayosi60th on Twitter and and Tweet with the masterpiece election hashtag (#なかよし名作復刻), can vote and make their case for the reprints. 30 voters will also be selected in a lottery to receive a special commemorative book mark.
Candidates include
Azuki-chan by Chika Kimura and Yasushi Akimoto
Ohayo! Spank by Shunichi Yukimuro and Shizue Takanashi
Goldfish Warning! by Neko Nekobe
Jigoku de Mes ga Hikaru by Ryouko Takashina
Daa! Daa! Daa! (aka UFO Baby) by Mika Kawamura
Tokyo Mew Mew by Reiko Yoshida and Mia Ikumi
Nanairo Magic by Yu Asagiri
Miracle Girls by Nami Akimoto
Goddess by Chie Waseda
Youkoso! Hohoemi Ryou e by Yui Ayumi and Satsuo Endou
The January 2015 issue of Nakayoshi debuted a teaser logo for its 60th anniversary celebrations, featuring Osamu Tezuka's pioneering Princess Knight, Naoko Takeuchi's Sailor Moon, CLAMP's Cardcaptor Sakura, Nami Akimoto's Miracle Girls, Yū Asagiri's Nano Iro Magic, Peach Pit's Shugo Chara! and Yuriko Abe's Shugo Chara-Chan!, Moyocco Anno's Sugar Sugar Rune, Izumi Todo and Shizue Takanashi's Magical DoReMi, Megumi Tachikawa's Saint Tail, Ema Tōyama's Angel's Egg and Neko Nekobe's Goldfish Warning.
------
Scott Green is editor and reporter for anime and manga at geek entertainment site Ain't It Cool News. Follow him on Twitter at @aicnanime.