Both CD singles will be released on February 18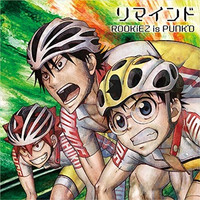 Toho Animation's official YouTube channel today posted short version promotional videos for "Remind" by three-member mixture rock band ROOKiEZ is PUNK'D and "Eikou eno Ichibyou" (One second to the glory) by four-member rock band MAGIC OF LiFE, whch are respectively featured as the OP and ED song for the 2nd cour of the ongoing TV anime Yowamushi Pedal Grande Road.
ROOKiEZ is PUNK'D previously performed "Reclimb" (6th single) as the OP song for the TV anime 1st season, and "Realize" (7th single) as the 1st ED song for the 2nd season Grande Road. MAGIC OF LiFE also provided "Yowamushina Honoo" (Weakling Fire), the 2nd OP song for the 1st TV anime, under their old band name DIRTY OLD MEN.
The CD singles of both songs are scheduled to be released from TOHO animation RECORDS
simultaneously on February 18.
"Remind" short PV by ROOKiEZ is PUNK'D
CD jakcket
ROOKiEZ is PUNK'D © ROOKiEZ is PUNK'D
"Eikou eno Ichibyou" short PV by MAGIC OF LiFE
CD jacket
MAGIC OF LiFE © MAGIC OF LiFE
"Reclimb" ROOKiEZ is PUNK'D (6th single/Yowamushi Pedal 1st OP)
"Realize" ROOKiEZ is PUNK'D (7th single/Yowamushi Pedal Grande Road 1st ED)
"Yowamushina Honoo" DIRTY OLD MEN (2nd single/Yowamushi Pedal 2nd OP)
Source: "Yowamushi Pedal Grande Road" official Twitter
© Wataru Watanabe (Weekly Shonen Champion/Yowamusshi Pedal Production Committee