The film gets limited theatrical run for two weeks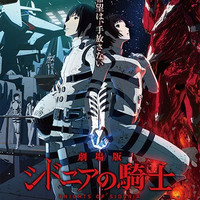 Mantan Web's YouTube channel MAiDiGi TV today posted a 100-second exclusive clip from the the upcoming compilation film edition of Knights of Sidonia, featuring the protagonist Nagate Tanikaze's first sortie in Type 17 Garde Shiratsuki Remodeled Ver. Tsugumori. The 133-minute film compiles all 12 episodes of the TV anime first season, which was aired in Japan from April to June 2014, with newly animated scenes from different angles and redone sound effects.
It is scheduled to be screened at 22 locations across Japan from March 6 for a limited time of two weeks. The first 60,000 moviegoers will receive a copied character illustration drawn by the original manga creator Tsutomu Nihei, the protagonist Nagate Tanikaze for the first week's 30,000 moviegoers, then the heroine Shizuka Hoshijiro for the second week.
Full trailer
Character illustrations by Tsutomu Nihei
Poster visual
via: Mantan Web
(C)TSUTOMU NIHEI・KODANSHA/KOS PRODUCTION COMMITTEE.