Chobits 2.0 bei den Münchnern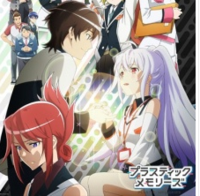 Der Münchner Publisher peppermint hat gestern über seine Facebookseite bekannt gegeben, dass man das Simulcast-Angebot für die aktuelle Spring Season noch um einen weiteren Titel erweitern konnte - und zwar um die Serie Plastic Memories.
Der Anime stammt aus dem Hause Doga Kobo (Yuru Yuri, Gekkan Shoujo Nozaki-kun) und entstand unter der Regie von Yoshiyuki Fujiwara (Engaged to the Unidentified). Für die meisten von wesentlich höherem Interesse dürfte aber Screenplay Writer Naotaka Hayashi sein. Dieser verantwortete nämlich bereits die Szenarien bei Chäos;Head, Steins;Gate und Robotics;Notes. Die Serie wird am 11. April bei peppermint mit einer Doppelfolge ins Simulcastprogramm starten und dann wöchentlich erweitert werden.
In naher Zukunft hat die Menschheit Androiden für alle Lebenslagen entwickelt. Die SAI Corporation vertreibt die mit menschlichen Emotionen ausgestatteten Giftia-Modelle. Nachdem Tsukasa seine Prüfung für die Oberschule vermasselt hat, bekommt er durch seinen Vater einen Job bei eben dieser Firma. Seine undankbare Aufgabe: Giftias die kurz vor ihrem Ablaufdatum stehen zu entsorgen. Als Partnerin bekommt er die Androidin Isla, selber eine Giftia, zugeteilt, die ihr ganzes Leben nie mehr durfte, als ihren Kollegen Tee bringen.