Quoi de neuf sous les Tropiques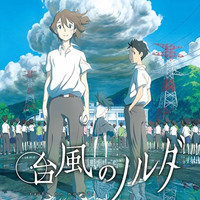 Elles sont belles mes news, elles sont fraîches mes news ! Découvrons ensemble le résumé de l'actualité de ce vendredi 10 avril 2015.
Un ancien animateur de Ghibli se lance dans un nouveau projet animé
Yôjiro Arai, un ancien animateur de Ghibli s'associe avec le chara designer Hiroyasu Ishida pour se lancer dans son propre projet d'animation : Taifu no Noruda. Le film du studio Studio Colorido sortira au Japon le 5 juin prochain.
Source : Catsuka
Cannon Buster commence sa production au Japon
Cannon Buster, un projet d'animation porté par Thomas LeSean qui a vu sa campagne financée sur Kickstarter, commence la production de son épisode pilote au Japon, chez Satelight Inc. Un compte Twitter a d'ailleurs été ouvert pour les fans de la future série.
The #cannonbusters script I wrote with @LeSeanThomas goes into production at famed #anime studio #satellite! pic.twitter.com/KUqYr4RTQo

— ericcalderon (@ericcalderon) 6 Avril 2015
2015 is gonna be a good year for new cartoons in the US. @Cannon_Busters Pilot is coming' #Bessie #MakeStuff pic.twitter.com/9sEJGRpy1V

— LeSean Thomas (@LeSeanThomas) 8 Avril 2015
Source : CR US
Sôma Saitô rejoint le casting d'Ace of Diamond
Le doubleur Sôma Saitô (Yûtarô Tsumugi dans Aldnoah.Zero) rejoint le casting de la deuxième saison de l'animé de sport Ace of Diamond. Pour rappel, la série est visible gratuitement ici sur Crunchyroll.
Synopsis de la 2e saison : L'équipe de base-ball du lycée Seido a raté de peu sa qualification pour le premier tournoi interlycées. Mais tout n'est pas perdu, ils peuvent encore sauver la mise lors de la session d'automne et arriver jusqu'au mythique stade Koshien. Menée par son lanceur, Eijun Sawamura, l'équipe va devoir se resaisir et trouver de nouveaux joueurs, les plus âgés étant trop occupés par leurs examens
Source : ANN
Saint Seiya Soul of Gold sera diffusé sur Mangas
La chaîne française Mangas diffusera ce mardi 14 avril à 23 h 35 en VOSTFR le premier épisode de Saint Seiya Soul of Gold, juste après la diffusion japonaise le 11 avril prochain. Treize épisodes sont prévus pour ce nouvel arc qui se déroule après celui d'Hadès du manga de Masami Kurumada.
Source : Manga News
Sailor Moon Crystal sera diffusé sur Canal J
Canal J va diffuser les épisodes de Sailor Moon Crystal, la deuxième adaptation série animée du manga Sailor Moon de Naoko Takeuchi. L'animé a été annoncé pour cet automne via Toei Animation Europe, sans plus de précision pour l'instant. Pour le moment, 19 épisodes ont été diffusés au Japon, et au total, ce sont 26 épisodes qui sont prévus. Par ailleurs, les épisodes sont disponibles en VOSTFR sur Nico Nico Douga.
Source : Animeland