Yasuomi Umetsu illustrates cover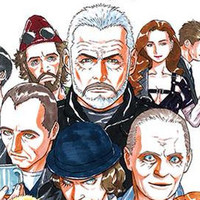 Eiga HiHo, a magazine largely concerned with foreign genre movies, and Otona Anime have teamed up to release a new Anime Creators Name the Ultimate Movie mook (magazine/book). Yasuomi Umetsu (Kite, Galilei Donna, Wizard Barristers) had blogged that he'd been involved with the project, and leading up to its May 11th release, Noriaki Matsuzaki has revealed Umetsu's cover and the other creators who name their favorite, influential flicks:
Akiyuki Shinbo (Madoka Magica, Monogatari)
Keiichi Hara (Crayon Shinchan, Colorful)
Yasuomi Umetsu
Seiji Mizushima (Fullmetal Alchemist, Gundam 00)
Masaaki Yuasa (Ping Pong)
Shinichirō Watanabe (Cowboy Bebop, Space Dandy)
Hiroyuki Imaishi (Gurren Lagann, Kill La Kill)
Akitaro Daichi (Fruits Basket)
Seiji Kishi (Assassinaiton Classroom)
Makoto Uezu (Assassination Classroom anime writer)
Shigeru Morito (Lagrange - The Flower of Rin-ne series composition)
Kenji Nakamura (Gatchaman Crowds)
Sadayuki Murai (writter on Millennium Actress, Knights of Sidonia)
Hiroshi Nagahama (Mushishi)
Takayuki Hirao (Garden of Sinners)
Hideyuki Kurata (Read or Die writer )
Takahiro Yoshimatsu (Hunter x Hunter character designer/animation director)
Sunao Katabuchi (Black Lagoon)
Sho Aikawa ( writer on Urotsukidoji, Violence Jack, Angel Cop, Fullmetal Alchemist)
Koichi Ohata (MD Geist)
------
Scott Green is editor and reporter for anime and manga at geek entertainment site Ain't It Cool News. Follow him on Twitter at @aicnanime.