The player has to save the Tokyo-3 citizens as a NERV agent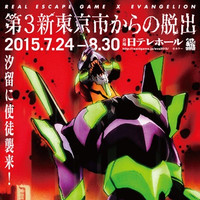 Following the successful first event "Escape from an Angel" in 2011, the Real Escape Game will offer a new Evangelion-themed event "Escape from Tokyo 3 - Your Mission will Save the Human Race" at the Nittele Hall in the Nittele Tower in Tokyo from July 24 to August 30.
Tokyo 3 is suddenly attacked and almost completely destroyed by an Angel. In a time limit of 60 minutes, the player as a NERV agent has to find its weak point and to extricate all of the citizens from the city by giving instructions to Shinji Ikari in Eva-01 and Rei Ayanami in Eva-00. 3,000-yen advance tickets go on sale today, May 15.
Poster visual
Event image
CM for the 2011 event
"What is the Real Escape Game?"
via: Comic Natalie
(C) khara