From the 59th episode to be aired on June 7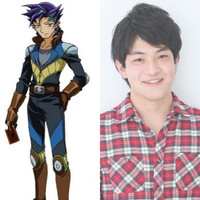 It is announced today that 21-year-old voice actor Kaito Ishikawa will voice a new character Shinji Weber in the ongoing Yu-Gi-Oh! Arc-V, the fifth installment of the Yu-Gi-Oh! TV anime series produced by Gallop. The character, who is a pal of Crow Hogan, will join the story from its 59th episode to be aired on June 7.
Ishikawa made his professional voice actor debut in 2012, then got his first lead role Ledo in Gargantia on the Verdurous Planet in the following year. This is his first appearance in the 15-year-old anime franchise. He is currently playing Ren Sakakibara in Assassination Classroom, Shihou Kimizuki in Seraph of the End, Rinne Rokudo in Rin-ne, and Arthur Pendragon in High School DxD BorN.
Shinji Weber
Kaito Ishikawa
Source: Mantan Web
© Kazuki Takahshi Studio Dice/Shueisha/TV Tokyo/NAS