Theme song is performed by high school girl singer Yuuka Ueno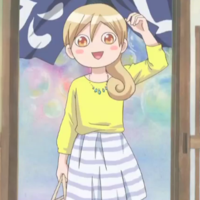 Tokuma Shoten's Monthly Comic Zenon has posted a new 15-second CM for the upcoming TV anime adaptation of Chie Shinkyu's seinen manga series Wakako Zake, narrated by Miyuki Sawashiro who is set to play the protagonist Wakako Murasaki. The 30-year-old voice actress is now highly praised for her portray as mysterious princess Twilight in Go! Princess PreCure.
The video also features the anime's theme song "Shiawase no Kaerimichi" (The Way Home of Happiness) performed by 17-year-old singer Yuuka Ueno. She won the Grand Prix in the KING RECORDS Presents Dream Vocal Audition in 2012, then made her professional singer debut with 1st single "Kimi to Ita Sora" (The Sky Where I Was With You) in July 2013. Her 5th single "Hoshi Tachi no Moment" (The Moment of the Stars) was used as the ED song for the live-action TV drama adaptation of Wakako Zake, starring Rina Takeda (High Kick Girl!, KG Karate Girl) and aired for 13 episodes early this year.
The manga has been serialized in the magazine since 2011 and currently four tankobon volumes are
available in Japan. The story follows 26-year-old female office worker Wakako Murasaki and her drinking
life at Izakaya (Japanese-style bar). The 12-episode adaptation is animated by Office DCI and will be
aired on Tokyo MX and Sun TV from July 5. Minoru Yamaoka, who previously worked as episode director
for Rail Wars! and Terror in Resonance, makes his TV anime directorial debut.
Anime main visual
Tankobon 1st and 2nd volume
3rd and 4th
© Chie Shinkyu/NSP 2011
© Anime "Wakako Zake" Production Committee