En antena el 7 de julio.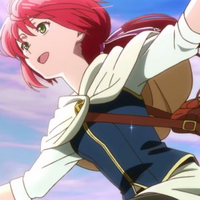 La web oficial de la adaptación televisiva animada del manga Akagami no Shirayuki-hime de Sorata Akiduki ha colgado un segundo vídeo promocional. La serie se estrenará en día 6 de julio a las 24:00 en Tokyo MX, o lo que es lo mismo, el 7 de julio a las 00:00.
El reparto completo anunciado de momento es:
Saori Hayami como Shirayuki
Ryota Osaka como Zen Wistali
Yuichiro Umehara como Mitsuhide Lowen
Kaori Nazuka como Kiki Seiran
Nobuhiko Okamoto como Obi
Jun Fukuyama como Raji Shenazard
Toshiyuki Toyonaga como Mihaya
Akira Ishida como Izana Wistalia
Yuko Kaida como Garack Gazelt
Yuuko Sanpei como Ryuu
Masahiro Ando (Zetsuen no Tempest) será el director de la serie bajo el estudio de animación BONES, contando con guiones de Deko Akao (Noragami, Arakawa Under the Bridge), mientras que Kumiko Takahashi(Ouran High School Host Club) diseñará los personajes. Michiru Oshima (Sakasama no Patema) compondrá la música, y Kazuhiro Wakabayashi (Ghost in the Shell: Stand Alone Complex) será el director de sonido.
Eyelis, una unidad musical compuesta por los compositores Satomi Kawasaki, Takeshi Masuda y Wataru Maeguchi, interpretarán el ending con "Kizuna ni Nosete". El opening será de Saori Hayami con "Yasashii Kibou".
La historia del manga shojo está protagonizada por Shirayuki, una chica preciosa que trabaja como vendedora de medicinas y que es pelirroja, algo muy poco común en su país. Cuando el príncipe le propone matrimonio y la acosa para que acepte, ella huye y se encuentra con Zen, príncipe de un reino vecino. Al ver que Zen es una persona respetable, decidirá servirle como médico de la corte.
Akiduki comenzaba el manga en la revista LaLa en el número de septiembre de 2006 de la revista, habiendo publicado Hakusensha de momento 13 tomos recopilatorios.
Fuente: @pKjd