"Classroom☆Crisis" ED song will be available on July 29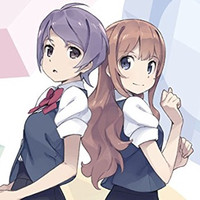 Sony Music has revealed cover artworks for two-member anison unit ClariS' upcoming 12th single "Anemone" to be released on July 29. It is now featured as the ED song for the summer 2015 TV anime Classroom☆Crisis, and its character designer Hiro Kanzaki provides the illustration for the anime edition CD.
Kanzaki, also well known as the novel illustrator/anime character designer for the Ore no Imouto ga Konna ni Kawaii Wake ga Nai series, previously drew the CD jacket illustrations for the unit's 7th single "reunion" (Oreimo TV anime 2nd season OP) released in April 2013 and their artist illustration at the time.
The Classroom☆Crisis TV anime is now available for Crunchyroll members in the following territories: North America, Central America, South America, United Kingdom, and Ireland.
"Anemone" time-limited anime edition CD jacket
First press limited edition
Regular edition
Current artist illustration by Otohiko Takano
7th single "reunion" anime edition jacket by Hiro Kanzaki
Artist illustration for the 7th single
Source: ClariS official website
© SME Records