SuperGroupies does it again!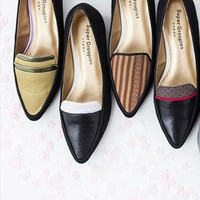 SuperGroupies, to date, is responsible for some of the most adorable creations related to your favorite anime series.
Now the company has turned its attention to Hakuoki, the anime and game otome series that has tons of young women going crazy for the bishounen who star in it. It's a fantastic romance series with several different media adaptations, and there's a brand new collection of pumps to commemorate it!
SuperGroupies' line of pumps are based on Hajime Saito, Heisuke Todo, Toshizo Hijikata, Souji Okita, Sanosuke Harada, and Chikage Kazama. All are represented in these beautiful new pumps, in patterns that call to mind the characters' different outfits, down to the color and material.
They're currently available for preorder until August 23rd, priced at 14,800 yen apiece. There aren't that many available, so those interested should act fast so they can nab a pair. They're absolutely adorable, so give them a look!
[via Tokyo Otaku Mode]
-------
Fueled by horror, rainbow-sugar-pixel-rushes, and video games, Brittany is a freelancer who thrives on surrealism and ultraviolence. Follow her on Twitter @MolotovCupcake and check out her portfolio for more.