Still ranks 7th in its 7th weekend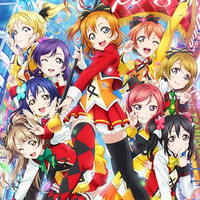 By the weekend of July 25-26, the all-new feature film Love Live! The School Idol Movie had earned an impressive 2 billion yen (about 16.24 million US dollars) from its domestic theatrical run. It keeps the same seventh position from the previous weekend.
The school idol-themed film has become the second most successful film based on a midnight TV anime series, only behind the 2013 film Puella Magi Madoka Magica: Rebellion with 2.08 billion yen.
Top 10 list for the films based on midnight TV anime series:
1. "Puella Magi Madoka Magica: Rebellion" (2.08 billion/October 2013)
2. "Love Live! The School Idol Movie" (2 billion/June 2015)
3. "K-ON! The Movie" (1.9 billion/December 2011)
4. "Anohana: The Flower We Saw That Day: The Movie" (1.04 billion/August 2013)
5. "The Disappearance of Haruhi Suzumiya" (850 million/February 2010)
6. "Tiger & Bunny: The Rising" (740 million/February 2014)
7. "Macross Frontier The Movie: The Wings of Goodbye" (700 million/February 2011)
8. "The [email protected] Movie: Beyond the Brilliant Future!" (670 million/January 2014)
9. "Macross Frontier the Movie: The False Songstress" (650 million/November 2009)
10. "Tiger & Bunny: The Beginning" (600 million/September 2012)
"Love Live! The School Idol Movie" trailer
Source: Eiga.com
© 2015 Project Love Live! Movie