Kenichi Onuki (Gundam Build Fighters) designs the anime character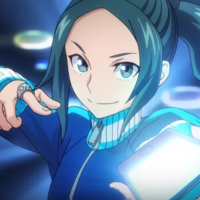 Following the first one released last month, the official website for the upcoming web anime adaptation of Mixi's mega hit action RPG Monster Strike today posted a three-minute extended PV introducing its main characters with their voices. The seven-minute series will be posted weekly on YouTube worldwide with multilingual support (Japanese, English, Chinese, Korean) from October 10, 2015.
Main voice cast:
Ren Homura: Yusuke Kobayashi (Arslan in The Heroic Legend of Arslan)
Oragon: Jun Fukushima (Shoukichi Naruko in Yowamushi Pedal)
Aoi Mizusawa: Lynn (Maya Kyoudo in Sabagebu!)
Akira Kagetsuki: Kengo Kawanishi (Kisaki Matsuribi in Aldnoah.Zero)
Minami Wakaba: Juri Kimura (Aoi Miyamori in Shirobako)
"Ver.2" trailer
Main staff:
Director: Kazuya Ichikawa (president of anime production company Domerica)
Story/Project Management: Jiro Ishi (Nintendo 3DS game Time Traveler)
Series Composition/Scenario: Youichi Kato (Yo-Kai Watch, Aikatsu!)
Character Concept Design: Tatsuro Iwamoto (Ace Attorney)
Character Design: Kenichi Onuki (Metal Armor Dragonar, Gundam Build Fighters)
Music: Noisy Croak (Dance Dance Revolution, Yakuza)
Production: Studio Hibari/Ultra Super Pictures
Source: "Monster Strike" wen anime official website
©mixi, Inc.