"My love for the girls has tuned to envy."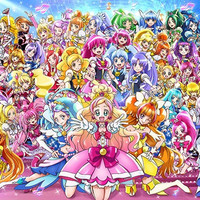 By August 5, Metropolitan Police Department's Yotsuya Station has arrested a 22-year-old university student from Shibata-city, Niigata Prefecture, on suspicion of fraudulent obstruction of business. According to the police, the suspect posted several bomb threats on the Twitter account of the staff of Toei Animation's PreCure series from his house around at 22:55 on March 12. It was two days before the premiere day of the 7th All Stars film PreCure All Stars: Spring Carnival♪ in Japan.
He threatened a theater in Shinjuku, Tokyo, with the posts saying, "I have planted bombs around the floor of the theater." and "I will crush into the theater by truck and will burn the whole building down." The theater he chose as his target had to tighten security due to the threats. But no explosives was found, then the PreCure film was screened as scheduled.
The suspect has already admitted his crime, confessing "I was jealous of the characters in the film who
were always hard working, bright, cheerful, and positive. My love for them has turned to envy." Police has
also been investigating other same kind of posts on Twitter.
"PreCure All Stars: Spring Carnival♪" poster © ABC/Toei Animation
Source: Jiji Tsushin