http://www.crunchyroll.com/anime-news/2015/07/26/osomatsu-san-anime-adds-kenichi-suzumura-and-sachi-kokuryu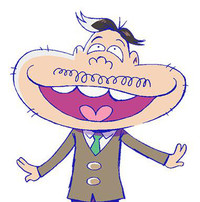 Three new cast members have been added to the upcoming Osomatsu-kun anime celebrating the 80th anniversary of the birth of "Gag Manga King" Fujio Akatsuka. Yōji Ueda (Jojo's Bizarre Adventure's Robert E.O. Speedwagon, Durarara's Kisuke Adabashi) will voice good-nature Dekapan, while Nobuo Tobita (Zeta Gundam's Kamille Bidan) is gluttonous Dayōn and Momoko Saitō is Hatabō, an otherwise normal boy with a flag stuck in his skull.
Other cast includes Takahiro Sakurai, Yuichi Nakamura, Hiroshi Kamiya, Jun Fukuyama, Daisuke Ono and Miyu Irino as the now grown-up sextuplets and Aya Endo as the series' heroine and childhood crush of the boys.
Kenichi Suzumura is Iyami, the flamboyant man who claims to be from France who immortalized a famous "Sheeeh!" pose and who stole the show from the titular sextuplets half-way through the original manga and in its second, 1988 adaptation.
Sachi Kokuryu is the sextuplets' rival/Iyami's assistant Chibita.
Gintama's Yoichi Fujita will be directing the Studio Pierrot production with Saint Young Men's Naoyuki Asano handling character designs.
【キャスト解禁】基本的にはのんびり屋でやさしいデカパン役は、上田燿司さん。パンツには何でも入っている大の動物好きなおじさんです。口癖は「ホエホエ」#おそ松さん pic.twitter.com/KvWcwP6xuj

— TVアニメ「おそ松さん」公式アカウント (@osomatsu_PR) August 6, 2015
【キャスト解禁】「THE怪人」とも称されるダヨーン役は、飛田展男さん。正体不明の変なおじさんです。#おそ松さん pic.twitter.com/6qveqKdPQf

— TVアニメ「おそ松さん」公式アカウント (@osomatsu_PR) August 6, 2015
【キャスト解禁】頭の上の旗をなびかせながら、ただ漠然とたくましく生きる男の子、ハタ坊役は、斎藤桃子さん。口癖は「ダジョー!」#おそ松さん pic.twitter.com/gIZtSbI1Cv

— TVアニメ「おそ松さん」公式アカウント (@osomatsu_PR) August 6, 2015
------
Scott Green is editor and reporter for anime and manga at geek entertainment site Ain't It Cool News. Follow him on Twitter at @aicnanime.