Male lead finally revealed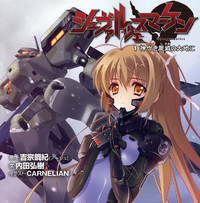 True to recent fan speculation, the anime adaptation of Muv-Luv Schwarzesmarken has been scheduled for January 2016. Along with this, and the launch of the series site, the voice of lead Theodor Eberbach has finally been revealed.
anime visual:
The Muv-Luv Schwarzesmarken light novel series, set in 1983, about East German Army's 666th TSF Squadron in its battles and political conflicts during the BETA's westward attack, which replaced Muv-Luv Alternative Total Eclipse in Tech Gian, is set to be adapted into a Schwarzesmarken: Kouketsu no Monshou visual novel and a second visual novel, with an anime set between the two. The first, is now set to be released November 27th with a fripSide opening.
Cast includes
Theodor Eberbach - Kenichi Suzumura (Gintama's Shogo Okita)
Katia Waldheim - Minami Tanaka (Assassination Classroom's Hinata Okano, Hanayamata's Hana N. Fountainstand, Wake Up Girls' Minami Katayama)
Irisdina Bernhard - Nozomi Yamamoto (Idol Master Cinderella Girls' Rika Jōgasaki, Hanagai's Yukimura Kusunoki)
Lise Hohenstein - Yoshino Nanjou (Love Live's Eli Ayase)
Anett Hosenfeld - Chika Anzai (Chika Anzai)
Gretel Jeckeln - Kiyono Yasuno (Wake Up Girls' Tina Kobayakawa)
Pham Thi-Rang - Emiri Kato (Madoka Magica's QB)
Sylvia Kschessinska - Michiyo Murase (Little Witch Academia's Sucy)
Walther Krüger - Kenta Miyake (Jojo's Mohammed Abdul)
Beatrix Brehme - Yukari Tamura (Magical Girl Lyrical Nanoha, Cross Ange's Hildegard Schlievogt)
Circe Steinhoff - Manami Numakura
Visual novel previews

------
Scott Green is editor and reporter for anime and manga at geek entertainment site Ain't It Cool News. Follow him on Twitter at @aicnanime.