Starts Tuesday October 6 at 4:30am Pacific Time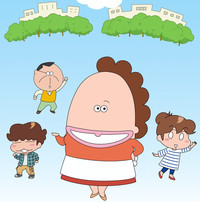 The trials and tribulations of everyday Japanese salarymen, housewives, and families provide the fodder for the latest streaming anime announcement from Crunchyroll: Shin Atashinchi, based on the best-selling manga by Eiko Kera, with the first 3 episodes set to launch on Crunchyroll every Tuesday starting October 6 at 4:30am Pacific Time. For more information, visit www.crunchyroll.com/shin-atashinchi (when the show page launches).
About Shin Atashinchi
A light hearted comedy based on the about the daily life of a "normal" Japanese family. The Tachibana family consists of a housewife mom, a salary-man dad, and teenager Mikan and Yuzuhiko. Based on a manga that ran in the Sunday edition of the Yomiuri Shinbun newspaper for 18 years, there are over 10 million copies of the first 20 compiled volumes, with the last volume being released on October 2nd.
Mom is voiced by Kumiko Watanabe, also known as Keroro in the St. Frog series, while Dad is played by Kenichi Ogata, who also plays Professor Agasa in the Case Closed series. Veteran voice actress Fumiko Orikasa, known for her roles such as Sherry in Zatch Bell and Rukia Kuchiki in Bleach, voices Mikan, and Daisuke Sakaguchi, who's also voiced Shinpachi Shimura in Gintama and Youhei Sunohara in the Clannad series, plays Yuzuhiko.
Shin Atashinchi will be available to Crunchyroll members in the following territories: USA, Canada, Central and South America, Australia, New Zealand, South Africa, and Europe.
-------
Patrick Macias is editor in chief of Crunchyroll News & Otaku USA magazine.
He is also the writer of HYPERSONIC music club, Paranoia Girls, & PARK Harajuku: Crisis Team!