Mainichi Shimbun Publishing launches μNOVEL on October 27th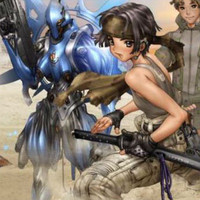 The concept of the light novel, generally pulpy books, generally aimed at teens and young adults, is credited as starting with 1975's launch of Sonorama Bunko. At age 40, it's time for the form to grow up a bit, and Mainichi Shimbun Publishing is taking that opportunity to introduce μNOVEL, a new light novel imprint aimed at adult readers in their 30s and 40s.
The imprint aims to help older readers re-discover favorites with new pairings of proven writers and illustrators. A release state of 3-4 titles every other month launches October 27th with:
Ryo Hoshino teaming up with Ghost in the Shell creator Masamune Shirow on The Third - an unfinished, 17-volume post-apocalyptic action adapted into a 2006 anime.
Issui Ogawa, a Seiun and Hayakawa Award-winning author of The Lord of the Sands of Time, teaming up with Yuuki Masami (Patlabor, Birdy the Mighty) on Icarus' Birthday.
Hideyuki Kikuchi, author of some of the earliest, most influential light novels, such as Vampire Hunter D, with Jun Suemi (Guin Saga novel covers, game covers such as Wizardry Llylgamyn Saga) on Aristocrat (Vampire) Dorobō Steel.
December releases:
Jōji Hayashi's New Battleship Birth
Akira Hoshino's The Third book 2
Shinobu Saeki's Sands of Sleep, Water of Dreams
February releases:
Ko Hiura's How to Spend the End of a Bright Century
Akira Hoshino's The Third Book 3
Shoji's Takashi's Dancing With the Devil (a new complete edition of a 1992 series)
Kazuo Koike's Yume Genji tsurugi no saimon (a new collection of existing work)
via shirowledge @sTwoJapan and PRWire

------
Scott Green is editor and reporter for anime and manga at geek entertainment site Ain't It Cool News. Follow him on Twitter at @aicnanime.