Keiichiro Kawaguchi-directed spin-off series will premiere in January 2016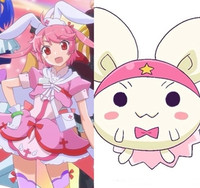 The official website for the upcoming TV anime Nurse Witch Komugi-chan R has announced three additional voice cast for the fairy partners of the three main magical girls: Hiroyuki Yoshino as Komugi's partner Usa-P, Daisuke Namikawa as Kokona's Tanu-P, and Ryota Takeuchi as Tsukasa's Neko-P. And it is also confirmed that each episode's villain will be played by veteran voice actors, such as 64-year-old Ryusei Nakao as Camera Kaijin in the first episode.
Nurse Witch Komugi-chan R, a new spin-off TV anime to the Nurse Witch Komugi series in the mid-2000s, is scheduled to premiere on Nihon TV in January of 2016. Check the main character visuals below.
Komugi Yoshida (CV: Kei Tomoe)
【キャラクター紹介】 吉田小麦(CV:巴奎依) 虹ヶ丘学園中等部の二年生。勉強も運動も苦手でちょっぴりドジだけど、いつも明るい元気っ子。弱小芸能事務所ラブプロに所属しアイドル活動をしている。 #小麦ちゃんR pic.twitter.com/UUsGvAm0Io

— TVアニメ「ナースウィッチ小麦ちゃんR」 (@KomugichanR) November 20, 2015
Usa-P (Hiroyuki Yoshino)
【キャラクター紹介】 うさP(CV:吉野裕行) 小麦のパートナー。口うるさくてちゃきちゃきしている。 #小麦ちゃんR pic.twitter.com/fZCG5SjaSX

— TVアニメ「ナースウィッチ小麦ちゃんR」 (@KomugichanR) November 20, 2015
Kokona Saionji (Erii Yamazaki)
【キャラクター紹介】 西園寺ここな(CV:山崎エリイ) 虹ヶ丘学園中等部の二年生。勉強はトップクラスで生徒会長もつとめる真面目っ子。ラブプロ所属。歌、ダンス、演技、なんでもできて礼儀正しい正統派アイドル。 #小麦ちゃんR pic.twitter.com/Z5AFWGToy4

— TVアニメ「ナースウィッチ小麦ちゃんR」 (@KomugichanR) November 20, 2015
Tanu-P (Daisuke Namikawa)
【キャラクター紹介】 たぬP(CV:浪川大輔) ここなのパートナー。言葉使いが丁寧で礼儀正しいが、実はゲス。おへそ好き。 #小麦ちゃんR pic.twitter.com/YVpilmVNWt

— TVアニメ「ナースウィッチ小麦ちゃんR」 (@KomugichanR) November 20, 2015
Tsukasa Kisaragi (Makoto Koichi)
【キャラクター紹介】 如月ツカサ(CV:小市眞琴) 虹ヶ丘学園中等部の二年生。大手芸能事務所キリプロ所属の男装アイドル。背が高くて運動神経がよく、女子に大人気。キャラを守るために普段は成長期の胸にサラシを巻いている。 #小麦ちゃんR pic.twitter.com/Z8ouGYISXS

— TVアニメ「ナースウィッチ小麦ちゃんR」 (@KomugichanR) November 20, 2015
Neko-P (Ryota Takeuchi)
【キャラクター紹介】 ねこP(CV:竹内良太) ツカサのパートナー。人情派で関西弁のええ奴。 #小麦ちゃんR pic.twitter.com/rWo8Y0eqp0

— TVアニメ「ナースウィッチ小麦ちゃんR」 (@KomugichanR) November 20, 2015
Main Visual
2016年1月より日本テレビほかにて放送開始となるTVアニメ「ナースウィッチ小麦ちゃんR」の公式ツイッターアカウントです。今後はこちらのアカウントにて随時情報を発信しますので、よろしくお願いします! #小麦ちゃんR pic.twitter.com/bIT1ALe5bP

— TVアニメ「ナースウィッチ小麦ちゃんR」 (@KomugichanR) November 20, 2015
Source: "Nurse Witch Komugi-chan R" official website, Twitter
© Tatsunoko Production/Komugi-chan R Production Committee