TV anime's 1st DVD/Blu-ray will be released on December 23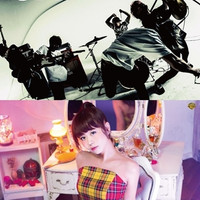 Warner Home Entertainment today announced that five-member Japanese rock band ALL OFF, who made their major debut with 1st OP "One More Chance!!," will again perform the yet-titled new OP theme song for the ongoing TV anime adaptation of Kazuma Kamachi's mecha action light novel series Heavy Object, while 27-year-old anime voice actress Yuka Iguchi will sing the yet-titled new ED. The 1st ED "Dear Brave" was performed by Nico Nico-born singer Kano as her 2nd major single.
ALL OFF was originally formed by four high school mates in 2004. After performing as indie band with several member changes, they finally got a professional contract with Warner Entertainment Japan and released their 1st single on November 4. Their 2nd single will be available in Japan on February 10, 2016.
As an anime voice actresses, Iguchi Yuka is best known as Index in A Certain Magical Index and is
currently voicing Mitsuba Sangu in Seraph of the End: Battle in Nagoya. She has released four singles,
and the next 5th single "Little Charm Fang," the OP theme song for the Strike The Blood OVA, will
be released in Japan tomorrow, November 25. Then the new ED song for Heavy Object will be released
as her 6th single on February 17, 2016.
1st OP "One More Chance!!" by ALL OFF
Artist edition CD single jacket
Yuka Iguchi 5th single "Little Charm Fang"
Limited edition CD jacket
Source: Warner Home Entertainment's anime team