New lineup was revealed at Animax Music 2015 last Saturday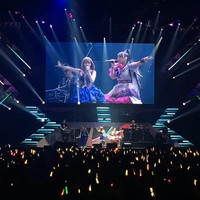 Warner Entertainment Japan has posted a 150-second sound-only preview for "PLASMIC FIRE," the theme song for the upcoming new anime project Accel World: Infinite Burst, performed by a new unit named KOTOKO x ALTIMA.
ALTIMA was originally consisted of rapper motsu (former m.o.v.e), singer Maon Kurosaki, and producer sat (flipSide). The unit provided the 2nd OP song for the 1st Accel World TV anime in 2014, "Burst The Gravity," while KOTOKO sang the 1st ED "→unfinished→." The new lineup adding KOTOKO was revealed at the Animax Music 2015 event held at Yokohama Arena on November 21, and the new theme song was also performed at the event for the first time.
Accel World: Infinite Burst was announced at the Dengeki Bunko Autumn Festival 2015 event on October 4, as a new anime based on an original story written by the novel author Reki Kawahara.
When and how it will be distributed are not confirmed yet.
"PLASMIC FIRE" preview
Event photos posted by Warner Home Entertainment's anime team
〈ALTIMA〉ALTIMAのステージいかがでしたでしょうか?!まさかの後ろから登場(*^◯^*)会場の熱気がハンパなかった!ヒェアヒェア\(^o^)/りさりさ #wb_anime #ALTIMA #animaxmusix pic.twitter.com/pbtQCgksTa

— <ワーナー・ホームエンタ>アニメチーム (@wb_anime) November 21, 2015
〈ALTIMA、KOTOKO〉そして!!シークレットでKOTOKO登場!!!そうです!KOTOKO×ALTIMAプロジェクト始動♪O(≧∇≦)O♪りさりさ #wb_anime #ALTIMA #KOTOKO #animaxmusix pic.twitter.com/uLEYGqbKka

— <ワーナー・ホームエンタ>アニメチーム (@wb_anime) November 21, 2015
〈ALTIMA、KOTOKO〉ANIMAX MUSIX 2015で披露された 「PLASMIC FIRE」は 『アクセル・ワールド インフィニット・バースト』主題歌に決定!りさりさ #wb_anime #ALTIMA #KOTOKO pic.twitter.com/qpbS4wpyHO

— <ワーナー・ホームエンタ>アニメチーム (@wb_anime) November 21, 2015
"Accel World: Infinite Burst" PV
Source: ALTIMA offcial website