Il gioco uscirà in Giappone il 17 dicembre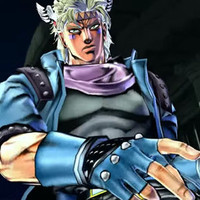 Bandai Namco ci propone altri due trailer dedicati ai personaggi di JoJo's Bizarre Adventure: Eyes of Heaven: questa volta è il turno di Caesar Anthonio Zeppeli, l'alleato di Joseph Joestar in Battle Tendency, e Gyro Zeppeli da Steel Ball Run.
Caesar Anthonio Zeppeli
Gyro Zeppeli
JoJo's Bizarre Adventure: Eyes of Heaven sarà disponibile per Playstation 3 e 4 dal 17 dicembre in Giappone. L'elenco completo dei personaggi giocabili è disponibile a questo indirizzo.
Il manga originale di Hirohiko Araki è edito in Italia da Star Comics, mentre la serie anime completa è disponbile gratuitamente su Crunchyroll.
Fonte: Bandai Namco su Youtube.