Due settimane all'uscita in Giappone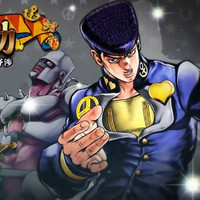 Siamo a poco più di due settimane dall'uscita in Giappone di JoJo's Bizarre Adventure: Eyes of Heaven e Bandai Namco non manca di invitare all'acquisto con altri due video dimostrativi del gameplay. Oggi tocca a Josuke Higashikata di Diamond is Unbreakable, la cui serie anime debutterà nella primavera 2016, e a Enrico Pucci, antagonista principale di Stone Ocean.
L'elenco completo dei personaggi giocabili è disponibile a questo indirizzo.
In Italia il manga originale di Hirohiko Araki è edito da Star Comics con il titolo Le Bizzarre Avventure di Jojo, mentre la serie anime che copre i primi tre archi narrativi è disponibile in streaming gratuito su Crunchyroll.
Josuke Higashikata
Enrico Pucci
JoJo's Bizarre Adventure: Eyes of Heaven uscirà in Giappone il 17 dicembre per Playstation 3 e Playstation 4.
Fonte: Canale Youtube Bandai Namco.