OP song "Ready Go!!" is performed by the three main VAs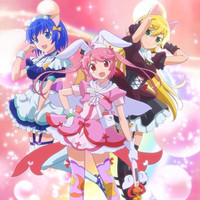 The official website for the upcoming TV anime Nurse Witch Komugi-chan R today announced that it will premiere on Nihon TV at 02:25 on January 10, 2016. It will be also available via the station's On Demand service and Hulu. Keiichiro Kawaguchi, best known for his works for SKET DANCE, directs the spin-off series for Tatsunoko Production.
In addition, the OP song "Ready Go!!" is performed by a newly formed unit named "Magical☆R" consisting of the three main voice actresses of the show: Kei Tomoe (Komugi Yoshida), Erii Yamazaki (Kokona Saionji) and Makoto Koichi (Tsukasa Kisaragi). The three junior high school girls are also working as idols in the story. The CD single will be released in Japan on January 27, 2016.
Mainichi Shimbun's MAiDiGi TV has posted an interview video with the three VAs.
Komugi Yoshida (CV: Kei Tomoe)
【キャラクター紹介】 吉田小麦(CV:巴奎依) 虹ヶ丘学園中等部の二年生。勉強も運動も苦手でちょっぴりドジだけど、いつも明るい元気っ子。弱小芸能事務所ラブプロに所属しアイドル活動をしている。 #小麦ちゃんR pic.twitter.com/UUsGvAm0Io

— TVアニメ「ナースウィッチ小麦ちゃんR」 (@KomugichanR) November 20, 2015
Kokona Saionji (Erii Yamazaki)
【キャラクター紹介】 西園寺ここな(CV:山崎エリイ) 虹ヶ丘学園中等部の二年生。勉強はトップクラスで生徒会長もつとめる真面目っ子。ラブプロ所属。歌、ダンス、演技、なんでもできて礼儀正しい正統派アイドル。 #小麦ちゃんR pic.twitter.com/Z5AFWGToy4

— TVアニメ「ナースウィッチ小麦ちゃんR」 (@KomugichanR) November 20, 2015
Tsukasa Kisaragi (Makoto Koichi)
【キャラクター紹介】 如月ツカサ(CV:小市眞琴) 虹ヶ丘学園中等部の二年生。大手芸能事務所キリプロ所属の男装アイドル。背が高くて運動神経がよく、女子に大人気。キャラを守るために普段は成長期の胸にサラシを巻いている。 #小麦ちゃんR pic.twitter.com/Z8ouGYISXS

— TVアニメ「ナースウィッチ小麦ちゃんR」 (@KomugichanR) November 20, 2015
Main Visual
2016年1月より日本テレビほかにて放送開始となるTVアニメ「ナースウィッチ小麦ちゃんR」の公式ツイッターアカウントです。今後はこちらのアカウントにて随時情報を発信しますので、よろしくお願いします! #小麦ちゃんR pic.twitter.com/bIT1ALe5bP

— TVアニメ「ナースウィッチ小麦ちゃんR」 (@KomugichanR) November 20, 2015
Source: "Nurse Witch Komugi-chan R" official website, Twitter
© Tatsunoko Production/Komugi-chan R Production Committee