Sortie prévue pour 2016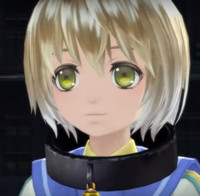 Bandai Namco n'a pas fait que présenter le nouvel animé de la franchise Tales of, lors de son Tales of Series IP Lineup qui avait lieu ce mardi. L'éditeur a également présenté une nouvelle vidéo dédiée à Tales of Berseria, révélant au passage un nouveau personnage et une sortie prévue pour 2016.
Après l'héroïne Velvet, déjà évoquée lors des premières annonces liées au jeu, la vidéo nous fait faire la connaissance de Raifisetto. Le character design du blondinet est signé Minoru Iwamoto, tandis qu'Azumi Asakura lui prête sa voix. Axé autour des notions d'émotion et de raison, le jeu fait en sorte que ses deux protagonistes illustrent des symboliques opposées : l'ombre pour Velvet, la lumière pour Raifisetto.
Plus d'informations sur le jeu devraient être dévoilées lors des prochaines semaines.
via ANN