140mm pre-painted swimsuit figure will be shipped in July 2016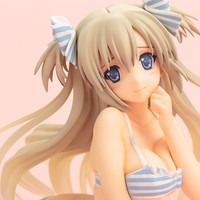 Following Irisdina Bernhard and the recently reported Katia Waldheim, Japanese retailers have also started accepting pre-orders for Kotobukiya's upcoming 1/7th scale swimsuit figure of Liz Hohenstein from the ongoing TV anime Schwarzes Marken for a July 2016 release. The price for the 140mm-tall pre-painted figure is 8,800 yen (about 77 US dollars). Kotobukiya is planning to add a "Schwarzes Marken" version Irisdina Bernhard figure soon.
The Schwarzes Marken TV anime based on on a spin-off light novel series of the Muv-Luv Alternative adult game franchise is now available to Crunchyroll members worldwide except for Asia.
Irisdina Bernhard, Katia Waldheim, Liz Hohenstein
Source: Kotobukiya
© 2011 ixtl All rights reserved.