Novo título da Crunchyroll.pt vai te encantar!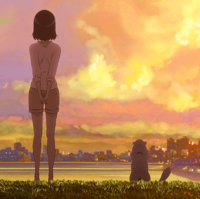 A Crunchyroll orgulhosamente apresenta seu mais novo anime em transmissão simultânea: Kanojo to Kanojo no Neko -Everything Flows-!
Baseado no belíssimo curta do aclamado diretor Makoto Shinkai, Kanojo to Kanojo no Neko -Everything Flows- mostra o cotidiano de uma jovem e seu gato.
Com 8 minutos de duração e um total de 4 episódios, Kanojo to Kanojo no Neko -Everything Flows- estreia nesta sexta-feira, dia 4 de março, às 13h50 (BRT) / 16h50 (GMT+1) para os membros Premium do Brasil e de Portugal, assista!
Em um certo verão, no dia mais quente, ela e seu gato -que sou eu- iniciaram sua vida juntos. Ela se formou em um curso técnico e, agora, passa seus dias em busca de emprego. Ela, que está sempre se esforçando, e eu éramos inundados por um sentimento de paz quando estávamos juntos. Eram momentos muito especiais. Mas várias coisas não vão do jeito que ela quer: com família, amigos, o futuro... ela se magoa com os acontecimentos e quase fica sem saber qual será o seu rumo. Apesar das dificuldades, ela ergue a cabeça e corre atrás de seu caminho, no mundo lá fora. E eu, bem, eu só desejo ficar para sempre ao lado dela, que eu tanto amo, acompanhando cada passo.
Conversem conosco pelos perfis oficiais no Twitter, no Facebook e no Google+ e fiquem por dentro de todas as novidades! Fiquem de olho nas CrunchyNotícias e da nossa Programação e discutam as novidades no fórum!
Assista aos episódios pelo site da Crunchyroll.pt ou pelos nossos aplicativos. Membros com Assinatura Premium+ da Crunchyroll possuem acesso a todos os animes e dramas com qualidade em alta definição e sem propagandas! Conheçam nossos Planos de Assinatura!
---
Swyyy é editora-chefe da CrunchyNotícias pela Crunchyroll.pt.
Encontre-a fazendo otakices em seu perfil @SwyTeofilo.