Sottotitolato in italiano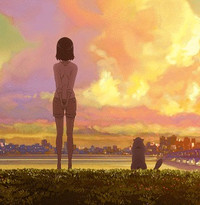 Crunchyroll è lieto di annunciare la trasmissione in contemporanea con il Giappone e con sottotitoli in italiano di She and Her Cat -Everything Flows- una serie basata sul cortometraggio autoprodotto nel 1999 dal regista Makoto Shinkai (5 Centimetri al Secondo, Il Giardino delle Parole).
She and Her Cat -Everything Flows- sarà disponibile ogni venerdì alle 17:50 (ora italiana) a partire da oggi 4 marzo.
Kazuya Sakamoto dirige l'anime con Naruki Nakagawa (Ergo Proxy) alla sceneggiatura per LIDEN FILMS. Kana Hanazawa interpreta una giovane donna alle prese con il college, Shintaro Asanuma interpreta il gatto nero e Sayuri Yahagi l'amica della protagonista.