The author says, "It's too cool to believe they were drawn by me."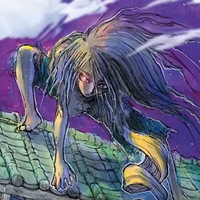 51-year-old manga artist Kazuhiro Fujita starts serialization of his new work Souboutei Kawasubeshi/Souboutei Must Be Destroyed in the latest 17th issue of Shogakukan's Weekly Shonen Sunday published today in Japan. The publisher has posted a 30-second PV for the "spectacle modern horror" series, which also introduces the author's past works, Ushio to Tora/Ushio and Tora (1990-1996), Karakuri Circus (1997-2006) and Gekkou Jyourei/Moonlight Act (2008-2014).
Fujita introduced the video on his official Twitter on March 22, saying, "A PV for Souboutei Kawasubeshi that
will start in tomorrow's Shonen Sunday is made! Please check it out. It's too cool to believe they were actually
drawn by me."
明日からの少年サンデーに載る「双亡亭壊すべし」のプロモーションビデオを作ってもらっちゃった!

ちょっと観ておくれー。
おれが描いたとは思えんほど、てんでかっくいいんだよ。https://t.co/oHXjP52e7t

— 藤田和日郎 (@Ufujitakazuhiro) 2016年3月22日
Weekly Shonen Sunday 17th issue cover
via: Comic Natalie
© Kazuhiro Fujita/Shogakukan