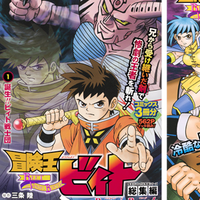 Desde la página Manga Net de Shueisha en Facebook se ha anunciado que el manga Beet the Vandel Buster de Riku Sanjo y Koji Inada regresará de su pausa de casi 10 años el próximo 15 de abril. Sanjo e Inada retomarán el manga en el número de primavera de la revista JUMP SQ. CROWN de la editorial.
Shueisha también está publicando una edición omnibus del manga, habiéndose lanzado los dos primeros tomos el pasado miércoles, y estando previsto lanzarse el tercero el 6 de abril y el cuarto el 13 de abril.
El dúo publicó la obra en la ya difunda Monthly Shonen Jump de 2002 a 2006, habiéndose lanzado el tomo recopilatorio número 12 de la serie en 2006. Desde entonces la serie está en pausa.
En 2004 se estrenó un anime para televisión que constó de 52 episodios, siguiéndole Beet the Vandel Buster Excellion en 2005 con otros 25.
Fuente: ANN